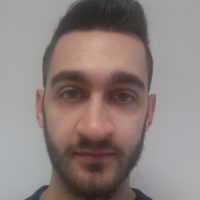 Gianfranco
Cordella
Ricerca:
Simulations of fluids
Supervisore:
Dino Leporini
I was born in Grottaglie (Puglia) on April 1995. In 2014 I got my scientific High School Diploma in Grottaglie and then I have moved to Pisa to study Physics. In 2017 I obtained my Bachelor Degree at University of Pisa with 110/110 cum laude. Then I have got my Master degree in Theoretical Physics at University of Pisa with 110/110 cum laude. My thesis was about the study of cosmological perturbations through a new model of quantum gravity based on fake particles and my supervisor was Prof. D. Anselmi. My research consists in quantum gravity and theoretical aspects of quantum field thoery in curved space. Moreover, I am interested in cosmological applications of quantum gravity.
Journal Articles
2022
Presentations
2021
Nanoscale elastoplastic wrinkling of ultrathin molecular films Presentation
15.10.2021.
2020
A new approach to quantum gravity: the Fakeons Presentation
14.09.2020.