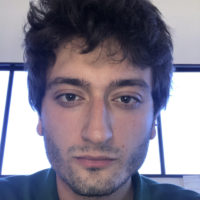 Eugenio
Ferrato
Supervisore:
Francesco Califano - Tommaso Andreussi
I graduated in Aerospace Engineering with highest honors in May 2017 at the University of Pisa, with a Thesis on modelling and experimental validation of an air-breathing plasma propulsion system for applications in very low Earth orbits. Since June 2017 I work as R&D engineer at SITAEL, an Italian company focused on satellite platforms and advanced space propulsion systems. Here I participated to the research, development and testing of 5 kW and 20 kW class plasma thrusters. My research aims at investigating the physical processes of atmospheric plasma confinement, ionisation and electrostatic acceleration underlying the working concept of air-breathing electric propulsion.
Presentations
2021
Kinetics of a Ram-EP Plasma Discharge Presentation
15.10.2021.
2020
Macroscopic Quantum States: Thermodynamic Phase Transition, Order Parameter and Wave Function in Superfluids, Superconductors and Bose-Einstein Condensates Presentation
14.09.2020.