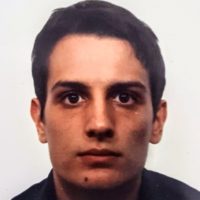 Lorenzo
Maio
Laurea:
Roma Sapienza (2019)
Supervisore:
Massimo D'Elia
I was born in Milazzo (Sicily) in 1994. I attended the scientific high school "Antonio Meucci", then I got my Bachelor degree in Physics at the University of Messina in October 2016. Then, I moved to Rome where I attended "La Sapienza" University and obtained my Master degree in Theoretical Physics in July 2019. My thesis was titled "Disconnected Terms in Electromagnetic Corrections to Weak Decays" and my supervisors were Prof. Guido Martinelli and Dr. Francesco Sanfilippo. I am interested in Theoretical High Energy Physics, in particular in numerical simulations on Quantum Chromo-Dynamics on the lattice. Beside physics, I have practiced at competitive level football and rowing. Currently I keep fit going to the gym.
Presentations
2021
QCD properties in strong background magnetic field Presentation
20.10.2021.
2020
Quantum Computing: introduction and current limits Presentation
11.06.2020.