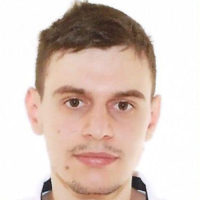 Andrea
Marasciulli
Ricerca:
Laser-plasma acceleration (ILIL)
Supervisore:
Leonida Antonio Gizzi
Tesi:
Area: new LPA acceleration scheme: ReMPI
I was born in Grottaglie (South Italy) on 21 April 1995 and I have done all my undergraduate path at the University of Pisa. I took my MS in Physics ("Fundamental Interactions" curriculum) with mark 110/110. My Master Thesis reports on the novel large-area SiPM-based photodetector of the DarkSide-20k experiment. My PhD is focused on the acceleration of particles through laser-plasma interactions.
Presentations
2021
Pulse train shaping with a delay mask for laser-plasma electron acceleration Presentation
20.10.2021.
2020
Lepton number violation search in ԏ decays Presentation
14.09.2020.