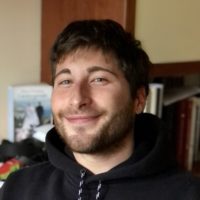 Francesco
Russo
Ricerca:
Conformal Field Theories
Supervisore:
Alessandro Vichi
I was born in 1995 and grew up in Cassino. I obtained both my bachelor's and master degree at University of Rome Sapienza, where I got interested in theoretical high energy physics. My master thesis was about one loop renormalisation of gradient flow observables in QCD, supervised by prof. Mauro Papinutto.  For my Ph.D. I am going to change a bit my field of research, focusing on conformal field theories.
Presentations
2021
Current trends in the Axiomatization of Quantum Field Theory Presentation
14.09.2021.